HUSTLER: BY YOUR OWN RULES

***STUDENT PROJECT DISCLAIMER***
​​​​​​​
All strategy and rebranded deliverables were part of a student project for educational purposes only. The following links and deliverables do not reflect the official HUSTLER brand.
OBJECTIVE
Develop a rebranded visual identity system aligned with HUSTLER's original initiatives to stand up for individual rights and freedoms.
DELIVERABLES
Rebranded visual identity system, Visual Strategy Guide, Visual Development Guide, Visual Standards Guide, Brand Extensions Website
VISUAL STRATEGY
The first step of the design process for visual identity development? Setting up a visual strategy. Studying the current HUSTLER audience, identifying new audience members, and establishing the current and aspirational brand vision was vital to crafting the new HUSTLER mission and using this as a springboard for further visual development.
VISUAL DEVELOPMENT
With a visual strategy in place, sketching to develop the logo form began. Special emphasis on exclamation marks, quote blurbs and asterisks were highlighted to tie HUSTLER's explicit past with the new mission and vision of free speech for all.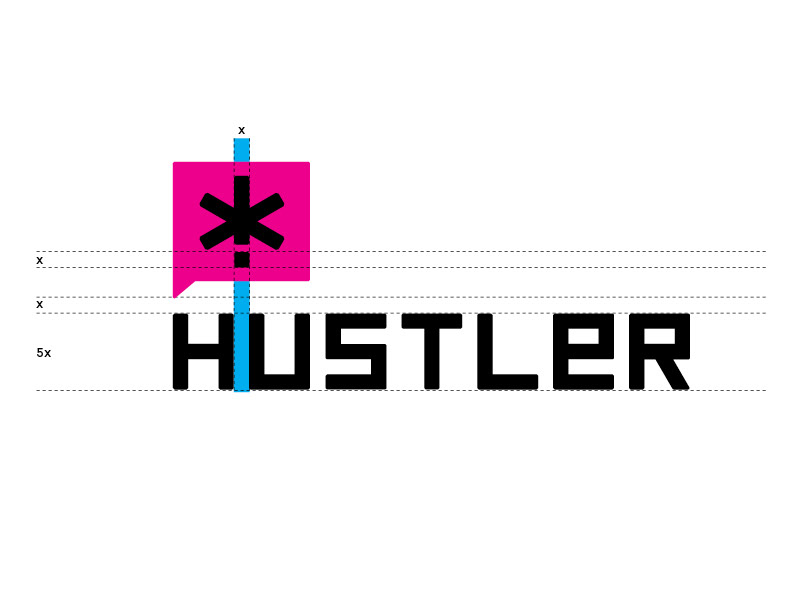 VISUAL STANDARDS
Leaning on the final logo as a foundation, brand colors and a type system were implemented to bring HUSTLER's new direction to life.
BY YOUR OWN RULES
For a full look at the HUSTLER rebrand project and to view the strategy, development and standards guides, head to the BYYOUROWNRULES website below.